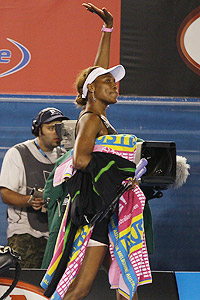 Watching the Australian Open 2011, the first Grand Slam tennis tournament of the year, reality should set in for Americans.  For USA, there is absolutely no bright spark in the womens rank beyond the aging Serena and Venus Williams, ranked 4th and 5th in the world respectively.  These girls have had a great career and have kept America on or near the top of the women's tennis world for well over a 15 years.  But…
The Australian Open 2011 Injury
Venus injured herself in the 2nd round tiebreaker (some may say it's perhaps a bit due to those flashy short outfits) and had to pull out in the 3rd round after only a few minutes.  With Serena already sidelined with a nagging injury, that leaves no American women in the 4th round.  I have confirmed that this is only the fourth time this has happened in the Open era for America's women.
When Wi Gawn…
Ninja man said, "When mi gawn…" in one of his famous dancehall hits.  When the Williams sisters are gone, and it is safe to say that it will be sooner rather than later (perhaps 1-3 years), the future of American women tennis doesn't seem too bright.
Keep in mind that Venus is 31 years old in June and Serena turns 30 in September.  Venus has been a tennis pro since 1994 and Serena since 1995.   Man!  That's 17 and 16 years respectively.   Amazing.  Few tennis players (men or women) have had such durable and successful careers as both these sisters have.
Who a go Follow wi…
Is there anyone playing right now like Vania King or Coco Vandeweghe that can lift American women's tennis close to the heights that these women have taken it?  Are there promising juniors?  Or, will women's tennis be dominated by the Eastern Europeans?  Right now, the only people who prevent that is Venus and Serena.  However, what happens when they retire from the sport, whether due to injury, age, or both?